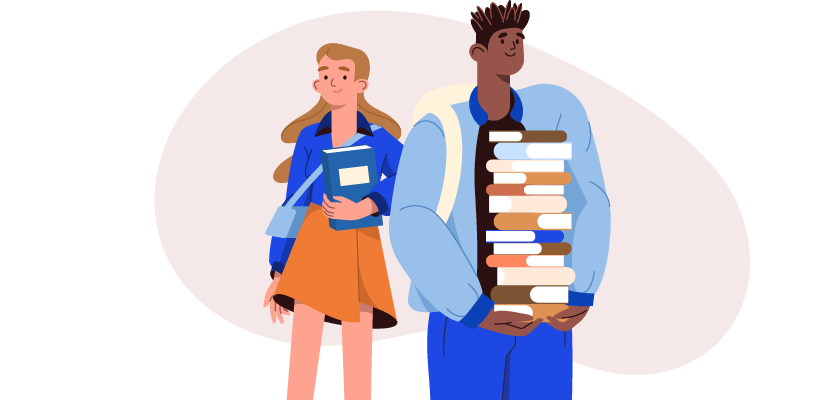 The quality of educational services in Belarus is one of the highest in the East European region. Before you go for new knowledge, we suggest that you study carefully the information given in this section. This information will help to determine the appropriate curriculum and its duration.
VOCATIONAL EDUCATION: LEVELS
Higher education usually takes place after school graduation. Possession of a certificate (or other similar document confirming the successful completion of basic education) gives its holder the right to become an applicant and enter Belarusian universities on a common basis. If you have a higher education, you can apply for a master's degree (master's program) or PhD (postgraduate).

Please note: in addition to standard levels of education, the following options for obtaining new knowledge and specialities are provided.
preparatory faculties;
professional retraining;
advanced training;
summer and winter schools (similar courses lasting from several weeks to several months)
WHERE TO START?
In most Belarusian universities, education is conducted in one of the official languages ​​(Russian/Belarusian). Every applicant who comes to a new country faces many difficulties despite language limitations. In order to help foreign students to adjust, each university has is a faculty of pre-university education. Teachers tell their students about the educational institution, the country, the specifics of studying, help to master the language at least on the initial level. That helps to get an idea of ​​the future profession and place of study. Duration of the preparatory courses is 8–10 months.
When the adaptation process is completed, everything is ready for obtaining quality knowledge. For a more complete understanding of the education system, we will describe each of the levels in detail.
SECONDARY VOCATIONAL EDUCATION
Foreign citizens, stateless persons and refugees can receive a profession in Belarusian colleges, lyceums, technical schools and vocational schools on a general basis (including at the expense of the republican budget). In total, there are more than 400 of such educational institutions. The list of specialities is very wide, mainly handling vocational professions. Upon successful completion of a secondary vocational school, a number of universities allow you to become a second-year student. Often graduates of technical schools and colleges decide to continue their studies at universities in the same speciality.

Duration of study: 2-3 years.
Form of study: full-time, by correspondence.
Tuition fee: from 1500 USD per the academic year (2 semesters).
HIGHER EDUCATION
Higher education in the Republic of Belarus consists of three levels.

BACHELOR'S DEGREE - FIRST LEVEL
Full higher education, as a result of which the chosen speciality is mastered and a state diploma, is issued. A graduate can immediately start working or continue studying for a master's degree.

Duration of study: 3–4 years.
Form of study: full-time, by correspondence.
Tuition fee: from 2500 USD (1400 USD - by correspondence) per the academic year (2 semesters).

MASTER'S DEGREE - SECOND LEVEL
In-depth study of a speciality at a different level of proficiency. Scientific and practical developments and a master's study (thesis) is being conducted. In case of a successful defence of the master's thesis, a scientific degree of Master of Science is awarded. A graduate can start working or continue postgraduate studies.

Duration of study: 1-2 years.
Form of study: full-time, by correspondence.
Tuition: from 2500 USD per academic year (2 semesters).

POSTGRADUATE STUDIES – THIRD LEVEL
Scientific activity of the highest category. A deep scientific and applied research is being conducted on selected issues within the framework of his/her speciality (thesis). In case of a successful defence of the thesis, a scientific degree of a candidate of sciences is awarded. A graduate works on his/her educational specialization. At the same time, he/she can continue his/her doctoral studies.
ADDITIONAL INFORMATION
In the process of studying, a student or a learner can simultaneously receive a second speciality, improve their qualifications or undergo retraining. This is the so-called system of continuing education. To clarify this possibility, please contact our specialists.

The Republic of Belarus is a member of the Bologna Process. Thanks to this, the bachelor's, master's, postgraduate diplomas and doctoral degrees are recognized in European countries. In total, Belarus counts up to 52 universities that educate specialists in various fields. For advice and assistance regarding the choice of the educational level, please contact our experienced managers.